Data is at the core of our approach, so getting it right is important.
We want to facilitate reuse for open environmental data. In order to do this, we follow the Linked Open Data approach, which means that we:
have been developing  our data model by reusing standards that people can refer to, making it approachable for everyone
are integrating data from different sources, linking them to increase their value
making data available in open standard formats, so that others may easily reuse them too
Data model
The main data model we have been using is the W3C Semantic Sensor Network ontology. This model describes key concepts related to sensor data, which is the low-level data that we are managing.
In order to describe additional concepts related to organizations and people involved in Open Environmental Data, we use the schema.org data model.
Data sources
Our main source of data has been Airbase, the European Environmental Agency dataset on Air Quality.

Data format
We are all about increasing the value and reusability of Open Environmental Data, which means going from data in documents and closed formats that live in silos to data in open formats that live in databases and are linked. Increasing the value of data means making them 5-star: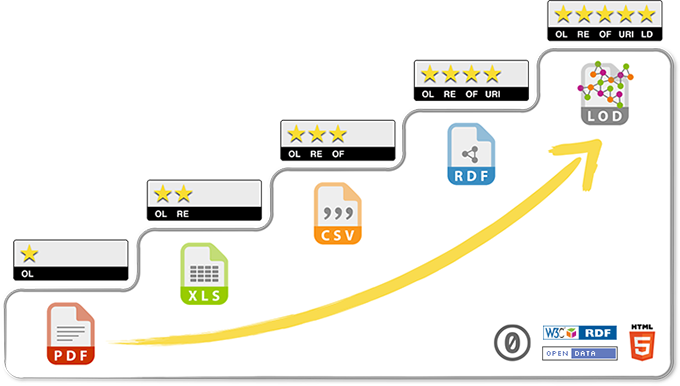 On the other hand however, we want to have our data in a format that developers are familiar with and tools can support. This is why we chose to go with GeoJSON and JSON-LD.
GeoGSON is an extension of JSON, the de-facto standard for web and mobile applications, that can be used to represent GeoSpatial data.
JSON-LD is an extension of JSON that enables anchoring of concepts to Linked Data models, making JSON data part of the Linked Open Data cloud.